GV Hose guard XL
As an alternative to the standard hose guard, Indexator Rotator Systems can offer an extra robust hose guard. 
Ideal for both normal and tough environments
Satisfies stringent demands for durability
Robust, durable product in a single piece
GV Hose guard XL is suitable for all rotators within the GV12, GV14 and GV17 families, apart from models with the designation "-2".*


* Models with the "-2" designation have two connections on either side of the rotator and use two standard hose guards.

The XL guard is installed very easily using four screws and four washers. When replacing a standard hose guard with Hose guard XL, two additional screws and two washers must be installed in addition to those used for the standard hose guard.
Dimensions: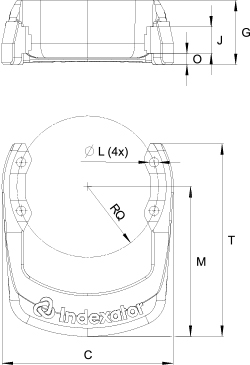 | | |
| --- | --- |
| C: 240 mm | G: 90 mm |
| J: 37,5 mm | ØL: 13 mm |
| M: 210 mm | O: 15,5 mm |
| RQ: 99 mm | T: 270 mm |

When purchasing Hose guard XL, you are recommended to order the following components:
When replacing a standard guard:
1 x Hose guard XL (Art. no. 5112006)
Additional 2 x Screw M12 (Art. no. 1016203) or
2 x Screw 1/2"-13 UNC (Art. no. 1019926) for US models
2 x Washer (Art. no. 1017326)


For new installation of Hose guard XL:
1 x Hose guard XL (Art. no. 5112006)
4 x Screw M12 (Art. no. 1016203) or
4 x Screw 1/2"-13 UNC (Art. no. 1019926) for US models
4 x Washer (Art. no. 1017326)

For more information about standard hose guards and GV Hose guard XL, and to place orders, please contact rotator@indexator.com